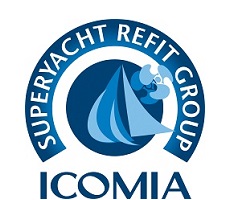 Yacht refinishing expert joins Rybovich Shipyard as Vice President
Peter Bergsma, Owner and Director of Yacht CSI (Coating Survey and Inspections S.L.) has officially joined Rybovich Shipyard as Vice President – General Manager, Coatings Division. Yacht CSI, operating out of Palma, Spain, provides consultancy and expertise to superyacht owners looking to maximize the quality of their refinishing projects. Bergsma, who will be given flexibility to fulfill his current CSI commitments, has an outstanding reputation among superyacht builders and European refit yards. He brings a level of knowledge and expertise previously unknown to the U.S. market.
A master painter by trade, Bergsma began his career in the marine industry working for ten years as a Technical Manager for Awlgrip paint systems. From there he formed his own yacht refinishing company with a team before becoming a consultant. His primary role at Rybovich will be to streamline and improve paint procedures, standards, delivery schedules and overall appearance quality with the goal of attracting more superyacht paint projects to the United States.
The relationship between Bergsma and Rybovich has been growing for over a year. In 2010, Bergsma, who had worked primarily with European yards, was hired to inspect Rybovich refinishing projects on MYMeridianand MYPolar Star. Bergsma was impressed with the level of commitment and cooperation he received from Rybovich project managers and technicians eager to learn and make adjustments based on his technical knowledge of yacht paint.
"It was a very pleasant experience, said Bergsma. "All parties involved were committed to meeting the timeline and the acceptance criteria."
Both Meridian and Polar Star projects had their unique set of challenges, especially Polar Star since it overlapped with paint projects on MYTV (formerly Mad Summer) and MYPrincess Mariana.
"All three projects were delivered on time, but not without our share of growing pains that Peter helped us work through, said Rybovich President, Doug West.
"We are very excited to have Peter with us on a permanent basis."
Bergsma is also enthusiastic about his new role and the potential it brings to the U.S. superyacht market:
"We have embarked on a journey which is very exciting and beneficial to all of South Florida. There is a lot of work in front of us in actually making South Florida the number one superyacht repaint destination world-wide, but I am confident we can make it happen because we have a very passionate owner and work force on our side."
Categories
Uncategorised